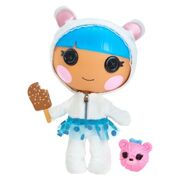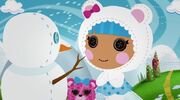 Bundles Snuggle Stuff plays WatermelonSunshine, in kindergarten form. Her debut was in Slumber Party Style.
Personality
[
]
Bundles is sweet, soft-spoken, and very friendly...but she can't be like this most of the time. When she's around the kids in her class, she is like this, but around Breeze's class, she is just as crazy as the others in that class. She yells random things, gives free hugs, and impersonates Ming-Ming from The Wonder Pets and the Nixels from Mixels. Some people find her annoying and a bit too much, but almost everyone likes her.
Relationships
[
]
Breeze E.
[
]
She and Breeze E. Sky became instant friends when Breeze first visited the Other Class. Bundles gave Breeze E. a huge hug.
Tiny
[
]
They are BFFs! They have lots in common with each other, especially how smart they are!
Mimi
[
]
She and Mimi La Sweet have been friends ever since she stood up for Mimi when Alice bullied her. Mimi counts on Bundles to defend her in sticky situations, because Bundles does not like to see people sad or angry.
Gallery
[
]
Trivia
[
]
She is in the "other" Kindergarten class with Tiny Might, Spoons Waffle Cone, Mimi La Sweet, Kiwi Tiki Wiki and Specs Reads-a-Lot.
She is one of the smartest kindergarteners, right up there with Tiny and Gizmo.
Like most of the other kids, she is a TTG fan.
She hates McBarf, FNAF (obvies), Pop'n Music (except for Alt 2.0), Go!Animate, and Y8.
She wants to join a gang.
She is the oldest of the kindergarteners.

WatermelonSunshine is the oldest user on this wiki (she is in high school).