"People know what rocks are and you should know too." ~ Dream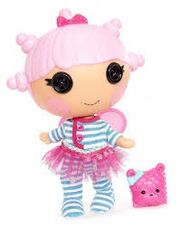 Personality
[
]
She is nice and collects buttons and rocks.
Relationships
[
]
Matey
[
]
They both are best friends and love rocks. She got helped by Matey from doing homework and so they're best friends and have a rock club!
Breeze
[
]
They are friends. They love LoopsyTube, they talk at lunch time and they watch TTG.
Trivia
[
]
She doesn't have a love interest, but she loves Gizmo.
In "Dodge Ball Disaster" she told Wishes to not eat the dodge ball several times.
She spies on the 5th graders a lot.
One time she kissed Gizmo on the cheek.