"Whatever......" ~ Raven(Note: She's a TTG character! In my series she's a fifth grader, but she is the same size and the same voice)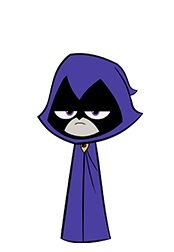 Personality
[
]
She is a sarcastic girl who is half human and half demon.....
Relationships
[
]
Starfire
[
]
She and Starfire are friends...They love Pretty Pretty Pegasus(PPP is Raven's favorite show, but it isn't real on actual TV in the real world), they both love hanging out with Jinx sometimes and they both like stories...
Robin
[
]
She loves his jokes...Raven is sometimes censored about Robin's "Crane Kick", they hate FNAF(even the other Titans) and they both don't like "Titans Most Wanted" because Gizmo said "Shut up!"...
Beast Boy
[
]
They're in love...They like love movies, They hate "Grown Ups" and "Grown Ups 2", they hate Terra and they were once friends, but now they're in love...
Trivia
[
]
She is like Bijou Treasure Trove from Lalaloopsy, but way more quiet....
Somehow she shows off her legs and Beast Boy says "Dem legs..."....
She is the only 5th grader who loves Halloween along with Jinx....
She doesn't really talk to some people....
She's way more quiet than anyone else in 5th grade....
She is way more censored about Robin doing the crane kick....
She is in Robin's gang
List of friends
[
]