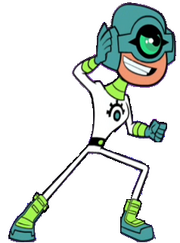 "Fine! I'm going to class then!" ~ See-More(Note: He's a TTG character! In my series he's a fifth grader, but he is the same size and the same voice)
Personality
[
]
He's really a white liar! Somehow he hates Cyborg!
Relationships
[
]
Jinx
[
]
He is in love with her! You know how in the original teen titans where He loves Jinx, we try to bring that back in little elementary!
Cyborg
[
]
You guessed it they both hate each other! He didn't like Cyborg in the first place, and the hate thing is unknown!
Trivia
[
]
He is in two gangs Gizmo's gang and Their Gang!
In Loser Force HIVE he licks one of his fingers then puts in on Billy!
List of friends
[
]
Gizmo
Jinx (girlfriend)
Mammoth
Billy
Velvet
Sweetie