"Alright, I'll do my stupid chores!" ~ Sweetie
Sweetie is a character.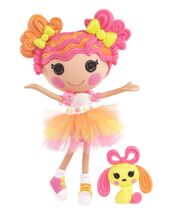 Personality
[
]
She's sassy as a wimp! She's even sassier than Mittens back in Lalaloopsy Elementary, which makes her only have a few friends.
Relationships
[
]
Billy Numerous
[
]
She and Billy are in love! They can both duplicate, be funny, and best of all love baseball!
Velvet B. Mine
[
]
Velvet is her only other friend, due to Sweetie being very sassy.
Trivia
[
]
Sweetie's friends are Velvet and Billy, along with some others who are not really her friends