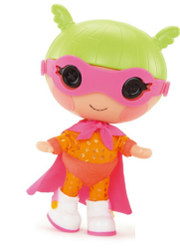 "Well, EXCUUUUUUUUUUUUUUUSSSSSSSSSSSSSSSSSEEEEEEEEEEE me, Little Miss Popular, but you need to clean yo' mind cause it be dirty! OOOOOOOOOOOOOHHHHHHHHHHHHHHHHHHHHHHHHHHH!" ~ Tiny
Tiny is a pal of Bundles.
Personality
[
]
Her best friends are Breeze and Bundles, but she likes to be with their other friends too. She is in the "other" class (Bundles' class) and is one of the top students, and is as smart as Gizmo (well Gizmo is 2% smarter than her). She wants to be in Breeze's class because she knows all the kids in that class.
Tiny is socially awkward and Streamers, Giggly, Tricky, and Elfina think she is weird because she wears a mask and is smart. Tiny loves school.
Tiny hates Streamers and loves to sass at her whenever she gets a chance to.
Relationships
[
]
Breeze
[
]
She and Breeze are great friends!
Bundles
[
]
She and Bundles are great friends!
Dream
[
]
Tiny and Dream live in the same neighborhood and are part of Our Gang.
Trivia
[
]
She does not like Wishes.
Tiny likes all of the fifth graders except for Robin.
She and See-More are enemies sometimes
She hates McBarf!
She can't celebrate Halloween, for reasons unknown to everyone but herself.
She is a BIG TTG fan!
Tiny has a gang: her, Dream, Beast Boy, Cyborg, and Twirly, which is the LE version of Our Gang.
Bundles is in her class.
List of Friends
[
]