"Since I can stop time, I can stop robbers too!" ~ Whispy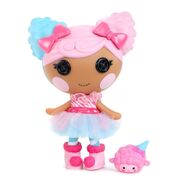 Personally
[
]
She is a sarcastic girl who has a great personality!
Relationships
[
]
Mallow
[
]
They're both have a mystery club together without anyone else. She and Mallow both have mysteriously personalities sometimes. There club as at the school at close to night time!
Trivia
[
]
She can control time like someone from TouHou.
In the Lalaloopsy series she doesn't have a sister, but in Little Elementary she mentions she does.
She doesn't like "Bratz".
She has a crush on Matey.
As she would say at school one time "I don't know why my sister doesn't eat meat!".